Walking back to our cars after experiencing a beautiful life celebration ceremony, under the moonlight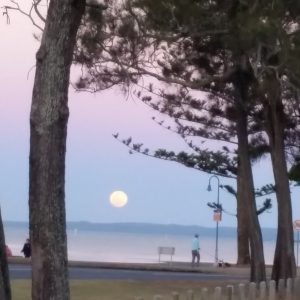 with firefly lights, Kevin commented, "Why is it that an amazing woman like Sharon dies when so many miserable others live on?"  I didn't have an answer at the time, but pondered it on my long drive home.
I wasn't blessed to have known Sharon Ryan personally, but attended because I knew her husband Tony through Professional Speakers Australia, and his warmth and generosity of spirit has always touched me. From the stories told at her life celebration, Sharon seems to have been a very rare combination of free spirit (dancing under the moonlight, jumping into the sea fully clothed to swim out to the whales, packing a swag and a sister-in-law to explore the outback) and fully grounded intelligent kindness, making so many feel they were the most important person in her world when she was with them, even during her seven years of pain and illness. She gave strength, hope and laughter to troubled children in her role as school guidance officer, and granted last wishes to dying children during 20 years of volunteering for the Starlight Foundation. A free spirit who also was a guiding light and anchor of kindness for those whose paths she crossed.  I can only begin to imagine what a hole her physical absence has left in the lives of her family and friends.
Why should she have to die when so many miserable people live on?  I'm sure you'll have your own perspective based on your own beliefs. My take on it is that by dying at her peak, so to speak, her message is amplified in a way that it wouldn't have been if she'd faded away in bed at a great age. People are inspired now to actively follow her message of 'practice more kindness', and the Starlight foundation may gain many more volunteers to replace her. She modelled how to deal with terminal illness with grace, living her life with love and kindness to herself and others until the end. 'Live your life' is another message that came through strongly.  There is so much beauty in our world, so much kindness in our hearts easily shared.
Vale Sharon Ryan, kind heart.