As I stepped onto the beach as usual, just on sunrise, I noticed two things. Firstly, lots of seaweed – a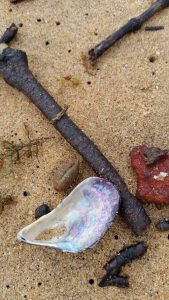 sign the winds and currents had shifted direction. Secondly, washed up to the high tide mark, a small but sturdy silver bucket, missing its handle. "Ah" I thought, "that'd be useful for picking up something. Seaweed for the compost perhaps? No, that's illegal." And I continued along the beach.
I'd woken up thinking about signs, processing what'd I'd heard over the past 24 hours. Signs, messages from our unconscious, are everywhere. Once you've seen a sign you can't unsee it. Sure you can ignore it, pretend you didn't see it, even tell yourself it was a sign for someone else, but it will remain, niggling for your attention.
As I continued along the beach I kept thinking about the bucket, and that couple I'd met another morning picking up every little piece of plastic. I pick up the large – the bottles, bait bags etc, but they were literally beach combing. They'd find the bucket useful. Along with Nature's litter, there was so much human litter this morning – plastic bottles, bags, straws, lolly packets and brightly coloured mystery bits. I thought about going back for the bucket, but no, I had places to go, things to do…but no early client booked in.
So much litter jumping up for attention, it quite disturbed my peaceful walk.
Half an hour later I returned, and instead of heading home I picked up that small sturdy silver bucket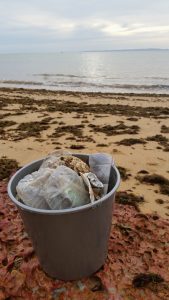 missing its handle, and started combing the beach, making her and me feel so much better. Down the beach and back I filled that sturdy little bucket, rewarded every time I bent down by the beautiful iridescence inside the mussel shells scattered around. Sure, I didn't clean up the whole world, but in that half hour I cleaned up my world inside and out.
You see, I don't think the bucket was just a sign to care for my environment, I think it was also a sign to pay attention and act on signs.  To stop ignoring what I know to be true, what I know needs to be done to be the best Me possible. To stop pushing pain down, instead of paying attention to the signs and dealing with it. I've been helping my mindset coaching clients do that every day for years, so it's not like I don't know how, or who to ask for extra support. We don't need to, in fact, can't, do it all alone. I just was ignoring the signs.
I thought about emptying then leaving the small sturdy silver bucket missing a handle beside the bin, in case someone else wanted to use it.  Then I realised this was my lesson, and just because it was missing a handle didn't mean it wasn't strong and useful, so I gratefully took it home with me, and found a way it can serve its purpose, holding my gardening hand tools.
Is this a sign for you?
BOOK your complimentary 15 minute telephone consultation on  https://www.timetrade.com/book/SPXCJ   or try pot-luck with my mobile phone.
P.S. If you have memories from your past you'd like to un-see, and shed the attached traumatic feelings, please don't waste any more happiness, call me today for a chat about how I can help you do exactly that.